Electronic machine
Stitch width - 7 mm
Hook system - Drop-in
Sewing space right of the needle - 170 mm
Stitch patterns - 394
Buttonholes - 8 (1-step)
Speed (stitches/minute) - 820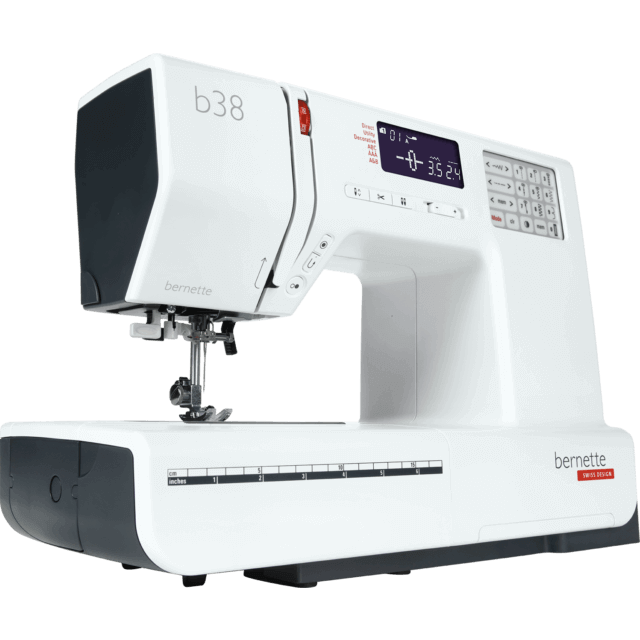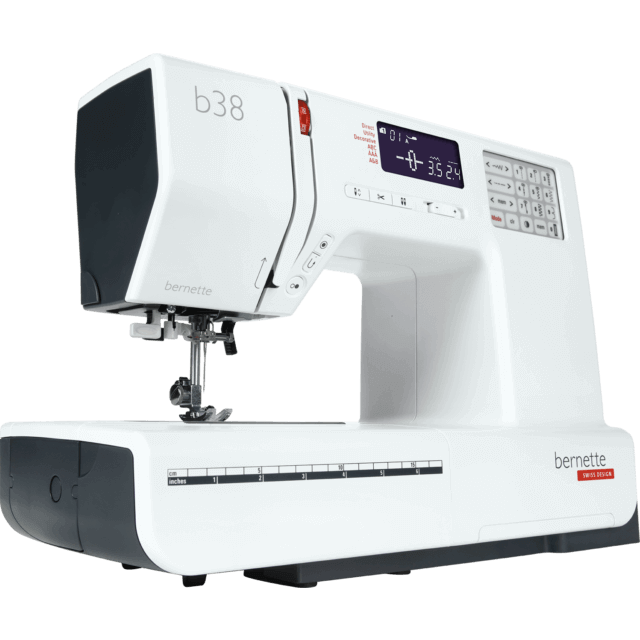 bernette 38
The affordable top model in the bernette 30 series of sewing machines, with a wide range of functions
The bernette 38 is the top model in the bernette 30 series. This computerised sewing machine offers a wide range of functions at an affordable price–leaving nothing to be desired. It offers 394 different stitches, including the stretch stitch for elastic fabrics. This means you can create fantastic T-shirts from jersey fabric, for example. The bernette 38 also has eight different 1-step buttonholes and three alphabets. In addition, it has a memory function, via which you can store various combinations of patterns. The bernette 38 has a useful speed regulator, which can be adjusted on the display. As the top model, this impressive sewing machine also has a bright LED sewing light, a threader and both an automatic and a manual thread cutter. The bernette 38 comes with eight different presser feet (soles) and a large extension table as standard.
Automatic thread cutter

Adjustable presser foot pressure

394 stitches in total, including 67 decorative stitches and 8 buttonholes

Three alphabets

Memory function for pattern combinations

Extension table included

Hardcover included

8 presser feet included
Features


Stitch width _______________________________________________________7 mm
Hook system____________________________________________________ Drop-in
Sewing space right of the needle _______________________________170 mm
Stitch patterns _______________________________________________________394
Buttonholes____________________________________________________8 (1-step)
Speed (stitches/minute)_____________________________________________ 820
Contents
Foot control

Zigzag Foot : A (set on the machine)

Overlock Foot: C

Zipper Foot:E

Satin stitch foot: F

Blindstitch Foot: G

Button Sew-On Foot: T

Open toe foot: F2

Buttonhole Foot with Slide:R

Needle assortment

Spool disc (X 2) (Large)
Spool disc (X 2) (Small) (1x set on the machine)

Second spool pin

Bobbin (X 4) (1x set in the machine)

Screwdriver

Lint brush

Seam ripper (buttonhole opener)

Spool net

Hard cover

Extension Table
Stitch Overview bernette 38
Extension Table
More luxury with an extended sewing surface.
Embroidery Foot with clear sole
The transparent sole affords a consistently clear view of the sewing project, ensuring that decorative and satin stitches, appliqués and off-the-edge scallops turn out particularly well.
Open Embroidery Foot
This foot makes quick work of appliqués and embroidery projects, as well as the sewing over of lines and patterns. The open shape ensures a clear view of the seam, and is therefore ideal for sewing on tapes and ribbon.
Blindstitch Foot
This foot is most suitable to sew blindhems or to topstitch edges. The stitches only pierce the hem so that the stitch holes are hardly visible on the right side of the fabric.
Zipper Foot
Due to the narrow shape, zippers in various versions can be sewn in easily. The fabric is fed evenly while you can sew along the coils very closely.
Overlock Foot
The Overlock Foot facilitates finishing edges professionally and sewing seams similar to overlocking. It is also particularly suitable to create decorative cuffs and seams in the most common knitware fabrics.
Buttonhole Foot with Slide
The buttonholes can be sewn easily in different versions and either with or without using cord. Any number of buttonholes can be sewn at exactly the same length.
Button Sew-On Foot
With this presser foot not only buttons of different sizes can be sewn on but also rings or hooks. The Button sew-on foot provides a slip-resistant sole so that the button cannot slip away.
Zigzag Foot
The Zigzag presser foot is a true all-rounder and is suitable for all the common sewing works. It is also optimal for special sewing projects.